Littleton NH River District
The River District
River District Redevelopment Update
Thanks to the outstanding support and investments from local businesses and the Town of Littleton, River District Redevelopment construction is moving forward. The funds invested in recent years by the Town and local businesses provided seed money to secure several million dollars of state and federal funding for the project. Construction on the $2 million Saranac and Ammonoosuc Street infrastructure project will begin in July to replace the sewer and stormwater system, road, and sidewalks and is expected to conclude by the end of the year.
The Mill Street sewer replacement project is expected to be started and completed in Spring/Summer of 2019 and will connect into the then-completed Saranac/Ammonoosuc Street project. The $1 million community sidewalk project, replacing and creating seven sidewalks throughout downtown Littleton including Cottage Street, is currently in the engineering phase. Construction is expected to begin in spring of 2019 and conclude by the end of that year.
We're excited to see these improvements moving ahead for our Town and the economic and community development impact they'll have.
Fine the latest Construction Updates at Littleton Area Chamber
The River District Commission is a master-planned community group of state and town officials and local residents dedicated to revitalizing the Ammonoosuc River district in Littleton, New Hampshire.
The mighty Ammonoosuc River is a viable locale poised to enhance Littleton's award-winning Main Street. Rooted in a landscape that put this small town on the map, the riverfront is the logical next step for economic redevelopment due to its scenic splendor and proximity to Main Street shopping.
History of The River District Commission
In September, 2012, the Town of Littleton and Plan New Hampshire sponsored a Saranac Street Design Charrette. Professional designers and many residents attended the two-day session to brainstorm ideas on how to reinvigorate one of Littleton's most historic commercial and residential areas. From these discussions, the River District Commission was formed, and plans and projects are now underway.
Why Revitalize the River District?
Enhance the scenic beauty of Littleton
Create new business opportunities with a river view
Complement Main Street shops
Preserve historic assets
Extend pedestrian/cycling trails
Reinvent Littleton as a tourist destination
Link Main Street via the newly constructed Riverwalk
Offer riverfront dining and events
Goals:
Fixing critical infrastructure issues with our sewer, water and power lines providing for safer travel for vehicles, pedestrians, and bikes
Expanding our river walk to encompass over two miles of beautiful walking trails and a great new pedestrian bridge
Providing for new opportunities for residential and commercial development resulting in more tax revenues for the Town and increasing Water & Light revenues.
These developments will provide for more jobs and spending in the area.
We will see more visitors, more investments and a better quality of life and wellness opportunity for the citizens in our wonderful town.
Major Milestones
In 2014, $250,000 was raised in private donations to fund the first round of improvements to the River District thanks to the generosity of our local businesses. This included arches to the Main Street entrances to the district (Mill Street and the Pollyanna Gateway) as well as complete reconstruction of the sidewalk and fencing along the Mill Street Parking area, clearing of brush to open the river up, and a cobblestone viewing platform overlooking the Ammonoosuc River.
Following a narrow defeat at the 2015 Town Meeting, the Commission came back to the voters in 2016 with a comprehensive plan to continue upgrading the River District, which easily won. This allotted $900,000 to be used as matching funds for outside grants. Numerous grants were applied for and received, including $500,000 in State of NH CDBG fundsand$1,000,000 from the federal EDA to upgrade infrastructure improvements along Saranac, Ammonoosuc, & Mill Streets, as well as $400,000 of CDFA tax credits and $250,000 from Northern Border Regional Commission to complete the multi-modal bridge on Bridge Street. Also part of the funding achieved in 2016 was $800,000 from a Federal TAP grant for the Littleton Sidewalk connectivity Project which funds sidewalk reconstruction on eight different downtown streets including the long-awaited Cottage Street improvement. This adds to funding for the already approved Safe Routes to School project which brings much needed renovations to the pleasant street and union street sidewalks as well as entrances to Lakeway Elementary School.
What's next for the River District?
As of Summer 2017, there are many projects currently under development within the realm of the River District.
The Safe Routes to School upgrades are nearing their completion (slated end of August, 2017), and the town is seeking engineering bids for the Littleton Sidewalk Connectivity Project.
Infrastructure improvements to Saranac, Ammonoosuc, & Mill Streets - including sewer, storm drains, sidewalks, and roadway - is slated to begin in late fall 2017
Permits have been filed with state and federal authorities for the government to formally abandon the portion of the railway that goes through downtown Littleton and the River District and create a multi-use trail. Construction is anticipated to begin in 2018
With all the new development and increased activity in the district, there are ongoing meetings and discussions being held regarding parking and expanding bicycle and pedestrian routes. More to come on this in coming months!
Engineer and contractor selection is underway for the $800,000 downtown sidewalk improvement project, with construction likely by 2019.
The last phase of major construction for the River District is the connectivity of the multi modal bridge on Bridge Street, to the reconfiguration of the east entrance of Saranac Street, and Phase 2 Reconstruction of Main Street. Although past grant applications have not been awarded, the commission is persistent in applying for funding to complete this last phase of construction.
How You Can Help
Get involved, ask questions! Contact John Hennessey, Commission Chair: (603)444-3504 or jhennessey@littletoncoin.com;
David Ernsberger, Marketing, Special Projects, and Funding Chair: dave@epartnerships.net or (210)387-4627.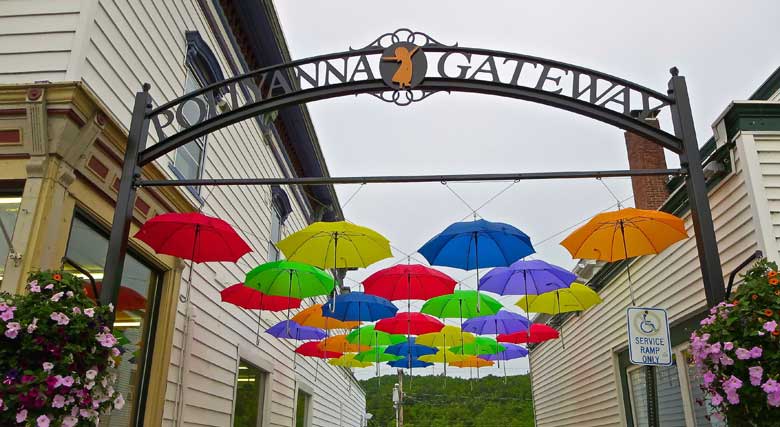 Pollyanna Gateway