Littleton Area Dining
Whether you prefer a quiet nook and a gourmet dinner or gathering around a sunny breakfast counter with friends, Littleton's myriad eateries aim to please. Main Street is bookended by two classic New England-style diners. In between, and down by the Ammonoosuc with riverside seating, hungry visitors will find options ranging from craft brews and hand-tossed pizza to creative cuisine and fine dining. Be sure to bring your appetite!
Featured Restaurants

The Littleton Diner
145 Main St.
Littleton, NH
603-444-3994
A traditional North Country landmark with a 21st century presence.

Adair Country Inn & Restaurant
80 Guider Lane, Bethlehem, NH 03574
5 minute drive from Historic Downtown Littleton 603 444-2600
Enjoy our creative cuisine by takeout or on our outdoor patio overlooking the grounds and gardens.

The Inkwell Coffee & Teahouse
24 Beacon Street
Stop by our new location at Rail Trail Village!
603-575-5335
www.inkwellnh.com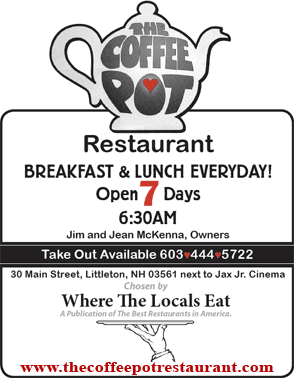 Coffee Pot Restaurant
Main Street, Downtown Littleton -- next to JAX Jr. Cinemas
603-444-5722

Chang Thai Café
77 Main Street
603-444-8810
changthaicafe.com

Gold House Pizza
and Greek Restaurant
77 Main Street
Littleton, NH 03561
603-444-6190 11-10 - carryout & delivery by Kirk's
The Beal House
West Main Street
603-444-2661
The Beal House
Alburrito's
106 Main Street
603-444-3338
Littleton Freehouse - 603-575-5410
28 Cottage Street
Littleton Freehouse
Timbir-alley Restaurant
603-444-6142
7 Main St.
Travelers-gourmet.com

Schilling Beer
603-444-4800
18 Mill Street
Schilling Beer
Outside dining and mobile ordering for Take-Away
Taste the Thai - 603-575-5488 - telephone & online orders
406 Union Street
Taste The Thai
Outside Dining, Carryout & Delivery