Littleton Area Dining
Whether you prefer a quiet nook and a gourmet dinner or gathering around a sunny breakfast counter with friends, Littleton's myriad eateries aim to please. Main Street is bookended by two classic New England-style diners. In between, and down by the Ammonoosuc with riverside seating, hungry visitors will find options ranging from craft brews and hand-tossed pizza to creative cuisine and fine dining. Be sure to bring your appetite!
During this time of social distancing, many restaurants have installed protection shields, wear masks and ask customers to follow the new guidelines. Many local restaurants are offering take out and outside dining. Call ahead for more details.
Featured Restaurants

The Littleton Diner
145 Main St.
Littleton, NH
603-444-3994
A traditional North Country landmark with a 21st century presence.

Adair Country Inn & Restaurant
80 Guider Lane, Bethlehem, NH 03574
5 minute drive from Historic Downtown Littleton 603 444-2600
Enjoy our creative cuisine by takeout or on our outdoor patio overlooking the grounds and gardens.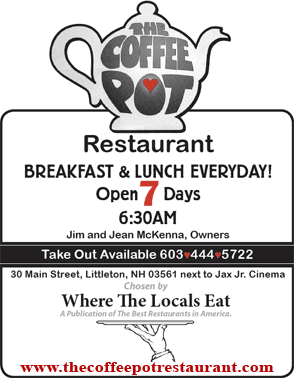 Coffee Pot Restaurant
Main Street, Downtown Littleton -- next to JAX Jr. Cinemas
603-444-5722


Gold House Pizza
and Greek Restaurant
77 Main Street
Littleton, NH 03561
603-444-6190 11-10 - carryout & delivery by Kirk's
---
The Beal House - Order Online
No-Contact Take-Away Wednesday - Saturday
603-444-2661
The Beal House
Alburrito's - 603-444-3338 - Take Out, Food Truck and Outside Dining
106 Main Street - 12-8
take out and patio dining
Delivery to Main Street
Chang Thai Café - 603-444-8810 - telephone orders only
77 Main Street
Carryout & delivery by Kirk's
Littleton Freehouse - 603-575-5410 - Take out and Outside Dining
28 Cottage Street
Littleton Freehouse
The Inkwell Coffee & Teahouse - 603-324-0942 - Outside Dining and Take Out
42 Mill Street - The Inkwell
Carryout only
Timbir-alley Restaurant - 603-444-6142 - telephone orders only
7 Main St.
Timbir-alley Restaurant
Carryout and limited dining
Schilling Beer - 603-444-4800 - Outside Dining and Take Out
18 Mill Street
Schilling Beer
Outside dining and mobile ordering for Take-Away
Taste the Thai - 603-575-5488 - telephone & online orders
406 Union Street
Taste The Thai online Orders
Outside Dining, Carryout & Delivery